Press
Annuaire
Advanced search
20 janv.
---
You are here : Home > Careers and Employment > SCUIO careers service > A resource centre
A resource centre
From studies to employment, the Espace Etudiants Emplois Entreprise will assist you with information, advice and assistance in specifying and choosing your course of study and making career plans.
Reception
SCUIO staff
would like to provide you with either group or individual help with documentary research (documentary research workshops for students or teaching staff who would like to attend).
A documentary collection
focusing on the links between courses of study and jobs is at your disposal
The topics covered:
Higher education courses in France, in particular scientific, medical etc.
INFO-DOC The documentary data base
A selection of websites
Publishers database

(access reserved to subscription from the SCUIO):

Training, professions
ONISEP
: the Atlas of basic training, to find out all about all the courses
of education in France
CIDJ
and
CRIJ
: infosheets on teaching, courses, professions, student life (France and Midi-Pyrenees Region)
Jobs, work placements

CLIP: the guide to professional networks and access to employment

Company directories by professional field or region

Kompass for Western Europe, Guide to water, the Pharmaceutical Industry, Building and Public Works, Top Economique Midi-Pyrénées ...


A paper collection
800 document files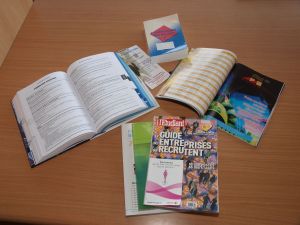 34 computer terminals

Office tools, IT and Wifi.


Careers advice and assistance in constructing a plan
Help in study and career choices
Psychologist Careers Advisors meet with students who wish to discuss their plans. There are several approaches:
Assistance meeting by appointment made at the SCUIO or by telephone
Direction and/or skills assessment summaries
Help in compiling an experience and skills portfolio (PEC)
Information sessions on the different study and career possibilities in higher education
Course change workshops L1-DUT-Medicine/Pharmacology
Preparation workshops for different forms of recruitment/entry examinations (selective courses, work placements etc.)
In addition, PASS AVENIR software is available with open access on terminals for
autonomous exploration of professions and professional interests.


Careers help sessions
Work placement or job search workshops
Conferences on professions, companies, business sectors, recruitment etc.
Analyses of surveys on professional integration.
Université Paul Sabatier
SCUIO/E4 118 route de Narbonne 31062 Toulouse cedex 9

contact
Tel: 0561556132 Fax: 0561558396 Email: scuio@cict.fr

Open to the public:
From Monday to Thursday 8:30am to 5:30pm - closed on Fridays. The switchboard is manned from 9am to 11:30am and from 2pm to 4:30pm except on Friday.




Last updated April 4, 2012
---
Université Toulouse III - Paul Sabatier
- 118 route de Narbonne 31062 TOULOUSE CEDEX 9
téléphone +33 (0)5 61 55 66 11