Press
Annuaire
Advanced search
21 janv.
---
You are here : Home > Campus > University life > Crèche
Day Care Centre (Crèche)
On 1st September 2008 the UPSIMOMES crèche
opened its doors to children of Université Paul Sabatier staff and students. It is close to the Allée des Maraîchers, 5 minutes from the Pharmacie metro stop, and near the university library.
It is one of the biggest university crèches in France, with 670 m2 of indoor space and more than 1300 m2 of garden space.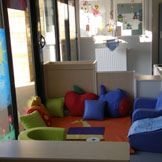 The architectural design allows activities to be organised within 3 units with a capacity of 20 each, which can function entirely independently.
The environment offered to the children is the result of some careful initial choices:
- A building designed to meet HQE (High Quality Environmental standard) norms, with self-insulating walls, under floor heating and a turf roof.
- Units that are designed as apartments, sharing common spaces: child development room and rooms for specific activities.
- The layout of the onsite kitchen has educational potential.
- The project aims to mix different ages of children across the unit.
- The cosmopolitan nature of the university is reflected at the crèche, where there will be children from some twenty different nationalities this year.
Last updated April 4, 2012
---
Contact
Crèche UPSIMOMES
118 route de Narbonne
31062 Toulouse Cedex 09
Secrétariat : 05.61.55.72.10
Directrice : Laurence PLANET : 05.61.55.72.11
Directrice-adjointe : Valérie PORTIE : 05.61.55.72.12
E-mail
Ouvert du :
Lundi au Vendredi de 7h30 à 18h30.
En chiffre
Cette structure multi-accueil se compose de 60 enfants âgés de 2 mois et demi à 3 ans répartis dans 3 mini-crèches. 40 places sont réservées au personnel de l'université et les 20 autres à ses étudiants.

Université Toulouse III - Paul Sabatier
- 118 route de Narbonne 31062 TOULOUSE CEDEX 9
téléphone +33 (0)5 61 55 66 11